48 Geometric Tattoo Designs
In the complex world of mathematics that studies shapes, sizes, and angles of objects – geometry is loved by tattoo enthusiasts around the globe. Geometric design with crisp lines, dots, and neat patterns creates perfect body art. There is an endless space in your body where you can get inked. The 48-tattoo design below can surely help you make a move.
1. Turtle Tropical Geometric
Turtle tattoos may have an oasis of meaning out there. This tattoo style incorporates an environmental connection with the coconut tree and a hammock as contemporary body art.
2. Diamond Lion Piece Tattoo
Lions are known as the king of the jungle, and this tat roar with melodies. There's always something captivating on a sleeve tattoo, and this tattoo style is very on point, emphasizing both the image of the lion and the piano keyboard.
3. Hourglass Sand Timer Tattoo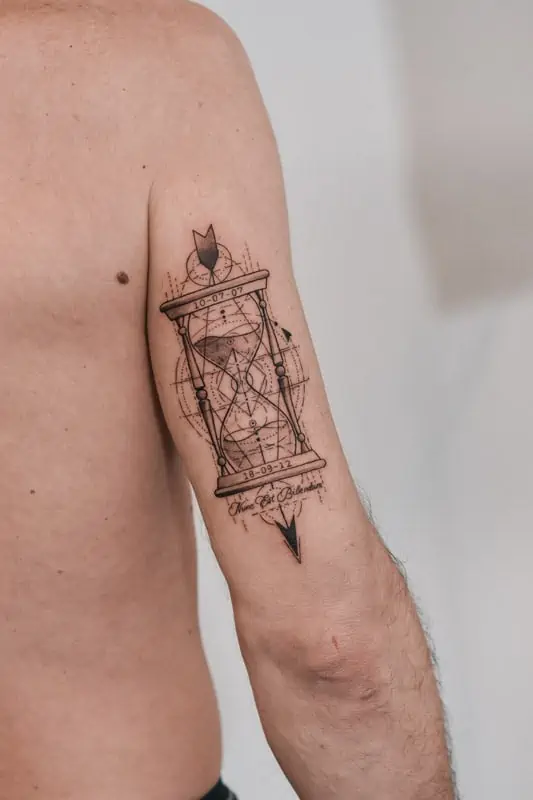 This incredible body art emphasizes the line works and different patterns inside the sand hourglass. This unique design is done with simple lines and shapes but is a remarkable concept.
4. Matching Nature Design
An extraordinary tattoo artist can create concepts with a modern approach like this. Tattoo statements have been drawn inside a triangle using techniques on black tattoo designs, and gray shading is a worthy art piece.
5. Silhouette Geometrical Tattoo
An intricate design like this command a deep meaning. This Silhouette geometrical tattoo is a style with a lot of shading—a candidate for the best geometric tattoos on your arm.
6. Tiger Geometric Cat Tattoo
In need of an Instagram-worthy tattoo? A cat tattoo has an aesthetic value you would want to hunt. Zoom in to see the owl tattoo or see it as a simple shape that matches the boldness of this cat.
7. One Piece Anime
Want body art with anime? For an anime lover like you, this popular manga series, one piece, is the perfect forearm tattoo. The added shapes in gray ink and bold lines are stunning details.
8. Koi Geometrical Pattern Tattoo
Geometric tattoo ideas like koi fish can be overwhelming. If anyone fancies fish tattoos, try this unique Koi fish tattoo. Its simple lines and black ink make this design stands out.
9. Simple Bird Tattoo
Free your feet from anklets! The stunning angles of the triangle put so much emphasis on the bird as the subject.
10. Mini Ankle Mountain Outline Tattoo
For those who love nature, we bring it under your skin. A minimalist tattoo with a small geometric mountain design is an unforced element.
11. Geometric Compass Tattoo
This compass tattoo offers the ultimate travel mood for you and for me. I love the visibility of details shown in this geometric piece. This compass tattoo brings clarity using simple straight lines and shapes.
12. Abstract Geometric Layout
If you are looking for a unique design, this abstract tattoo may just be what you are looking for. Thin crispy lines, familiar shapes, and artistic details for your chest tattoo also draw a lot of simplicity.
13. Realistic Eye Geometrical Tattoo
Mood through the lens of your eyes reveals: imbue a geometric piece. The black ink with many elements looks so mystical in a full-sleeve tattoo.
14. Chemical Compound Geometric Tattoo
This tattoo looks so intimidating composed of a chemical compound. Whether this is for a first tattoo or not, the components of ideas here state that you are doing an intelligent move.
15. Geometric Bunny Tattoo
A geometric-style bunny makes the perfect medium-sized back tattoo. If you're into simple yet elegant bunny tattoos, this black and white bunny is the one for you.
16. Elephant – A Sacred Geometry Tattoo
You will appreciate this geometric elephant tattoo for those who are into wild mammals. Embody this design on your rib side.
17. Upper Back Geometric Mountain View Tattoo
The many techniques used in this geometric piece are incredibly detailed. The shadows of the mountains emphasize a good mix of black and gray ink—this intricate design showcase excellent technique.
18. Geometric Watercolor Tattoo Flamingo
In our opinion, birds already make a flattering tattoo design, but adding a geometric rose tattoo made it more appealing. Flamingo tattoos have also become a contemporary style symbol crafted perfectly.
19. Bold Geometric Maze Tattoo
Geometric sleeve tattoos frequently have deeper meanings, they say. Talking about the design, you can see a potent composition of shapes and ink.
20. Forearm Geometric Alps View Tattoo
The alps in a cone. This forearm geometric tattoo showcases thin lines on the circle's border and triangle with solid artwork. The shading touches seen on the trees are neatly done.
21. Lion with Circle Geometric
Once you decide to ink a powerful image on your body, a geometric lion tattoo is always a good idea.
22. Geometrical Road Frame Tattoo
A mountain tattoo is eye-catching body art. The outlines may look so simple but yet very realistic looking.
23. Diamond Framed Vehicle Tattoo
Tell the world where you have been before 2022 ends. Vehicle tattoos are a sure fun image. The car and the mountain give you the exact concept of your dream destination.
24. Circular Framed Beach Tattoo
The eye-catching sun tattoo is so adorable! The delicate lines and circles are for a more outstanding tattoo art style. A reminder to enjoy the beautiful panorama.
25. Rectangular Framed Nature Tattoo
This kind of tree tattoo is not your ordinary tree tattoo. The palm trees can symbolize breathtaking scenery while enjoying your strawberry milkshake.
26. Geometric Bee Tattoo
Bee tattoos have become popular. This meticulous tattoo design flaunts how neat the shading was. The technique used for this achieved the realistic look of a bee.
27. Map Geometric Heart Tattoo
This tattoo world style awakens your soul to explore the world and enjoy life with so much love in your heart. This a minimalist tattoo that is highly recommended for an adventurer like you.
28. Geometric Aquatic Turtle
An aquatic turtles tattoo could be a tattoo design that you will not regret even when you are old and gray. The tiny circles with solid colors are a deft touch, and the two big circles are created to give the turtle the proper spotlight.
29. Geometric Sun and Mountain Outline Tattoo
A beautiful body art applied an excellent placement of the triangle and circle elements. From a bigger perspective, it creates a diamond shape. The clean, minimalist line work develops a detailed picture of the mountain.
30. Simple Geometric Lion Tattoo
This scenery is created with deft techniques. The sharp black lines and the nice mix of shadows inside the triangle shape are just so pleasing to the eyes.
31. Geometric Bear Tattoo
This bear tattoo incorporates excellent details in shadowing and forming thick and solid lines. This design is really an outstanding tattoo style.
32. Geometrical Arrow Layout Style
Many tattoos are made with magnificent elements just like this tattoo style. Dainty simple shapes are so calming in human eyes. Many tattoo artists actually love arrows.
33. City Skyscrapers Outline – Chest Tattoo
This chest tattoo gives us the aura of a bright and fun time in a city. The line work to frame the city helps emphasize the boldness of black ink. In contrast, the mountains as the background give the perfect balance of light gray shadow.
34. Geometric Mandala Tattoo
An unexpected detail makes this style stunning whether you lay down your hair or up. The technique is very delicate, like the inner line on each petal.
35. Geometric Shape with Complex Patterns
Fancy tattoo style like this? It's a kind of design that is not easy to do, yet you are bound to get compliments because of its intricate patterns.
36. Sacred Geometric – Praying
Perhaps consider a new personified imagery in your life by adding a hand gesture, the praying hand. This style symbolizes sacred geometry tattoos.
37. Giraffe Pattern
For those who love to incorporate big tat before the year ends, these shapes and patterns might be the one for you—making this design suitable for a thigh tattoo.
38. Wrist Floral Geometric
The dainty flower tattoo is a cute idea with a touch of crisp lines. This triangle shape with bold lines encloses the outlined flower rich in black ink shadow.
39. Face Geometric Arm Tattoo
For those who want a large tattoo with intricate patterns, an eye-catching design like this will never go unnoticed. This tattoo adds a high level of attention.
40. Mini Geometric Heart Tattoo
The careful placement of the heart can make you fall in love. Choosing the minimalistic line for a frame emphasizes the unique design of this anatomical heart.
41. Shape and Layout Tattoo
The length with many statements is one of a kind for a geometric arrow tattoo. The overlapping design still looks so neat.
42. Geometric Circular Repeating Designs Tattoo
A geometric tattoo with repeating designs like this can't make you look away. Complex patterns may be intimidating, but please take a minute to notice each line and shape.
43. Geometric Elephant Tattoo
If you are a bit on the daring side, here's a beautiful elephant casting geometric shapes in your rib cage.
44. Minimalist Double Triangle Pattern Tattoo
For someone who likes tattoo art but wants to keep the design neat and minimal, this simple shape triangle is a superb option for you.
45. Forearm Mountain Outline Tattoo
If you want a sleeve tattoo you can't go wrong with this mountain body art that embodies a subtle yet very visual design.
46. Dog Caricature in Diamond Pattern Tattoo
Itching for a thigh tattoo? The bold colors of black and grey with a very intricate pattern touch are award-winning tattoos. Look at the face of this scoundrel dog.
47. Mind over Heart Geometrical Pattern Tattoo
The combination of these two elements – heart and brain can be overwhelming when you involve logic. However, tattoos are one piece of art that has powerful meaning.
48. Geometric Wolf Tattoo
This wolf tattoo is an award-winning tattoo design because of how it is perfectly done. The shading, and the usage of dots, are just way too cool for your thigh tattoo. This could also be an excellent version of a minimalist tattoo.
Conclusion
Looking for the perfect geometric tattoo should not be complex. If you are already a tattoo enthusiast or this is your first time getting a tattoo, I suggest considering adding these mind-blowing geometric designs.
Look no further when looking for the best tattoo artist and pick the right artist. Whether you will get a geometric deer tattoo, geometric butterfly tattoo, or maori, realsim, mandala, Fineline, simple tattoo designs, or eye-catching tattoos try to visit Benson Gascon tattoo studio for a free consultation. 
Related Designs: